Archive for January, 2011
I want to welcome everyone to our new NBPFA website. I think you will find it to be an improved, more modern and much better showcase for our New Brunswick athletes. Since taking over as President from my long time friend "Len Collette" back in the summer of 2006, interest in New Brunswick Bodybuilding and Figure has grown at such a rapid pace that I am overwhelmed at the success. There are many people responsible for this growth but, when all is said and done, it is you the athlete I must thank. Your passion and enthusiasm for supporting our shows and Association is the glue that holds us all together.
Without question 2010 was our biggest and most successful year to date, with a record number of competitors and two National Champions crowned. I cannot express how proud I am of both Rachel Vienneau-LeBlanc and Jaclyn Wilson. Rachel won the overall Figure Championships at last year's CBBF Canadian Natural Physique Championships in Laval. She went on to receive her Pro card, making her the only female in New Brunswick to ever achieve this status, along with four-time Canadian Bodybuilding Champion Ti-Jean LeBlanc. Rachel will be making her pro debut at the 2011 Toronto Pro Figure Championships this summer in Toronto. Our other National Champion was Fredericton's Jaclyn Wilson, who honored us with a win in the Bikini Short category at the CBBF Canadian Figure/Fitness/Bikini Championships in Toronto last summer. I understand Jaclyn plans to defend her title this year.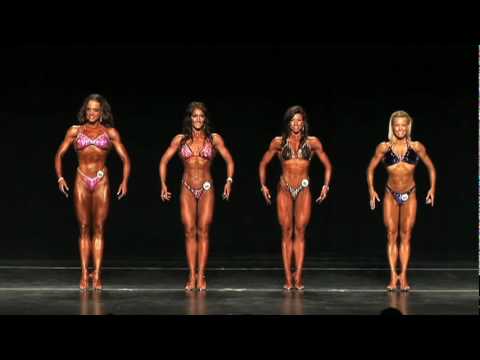 We are now into a new year, and I am very excited to see what everyone has in store for us. First up is the 2011 CBBF Canadian Natural Physique Championships on April 23rd in Laval, Quebec. This is a significant event and, as President of the NBPFA, I am excited to see New Brunswick represented by a record number of athletes. All reports indicate we could have as many as eight New Brunswick competitors participating, including 2010 NB Figure Model Short title holder Shannon Pineau from PEI. With so many competing, could we have another National Champion in our midst? Let's all hope so, and I welcome everyone to support our athletes by attending the competition.
The next big event of 2011 is the 33rd Annual Atlantic Championships scheduled for the weekend of May 14th at the Mathieu Martin High School in Dieppe. This contest is very dear to me, as I competed in my first Atlantics on this same stage thirty-three years ago, along with Ti-Jean LeBlanc who won the overall title. Ti-Jean is an icon of New Brunswick Bodybuilding and, along with his wife Heather, has successfully promoted the Atlantics since 2007. They have done a brilliant job in making this longtime Maritime tradition fun, entertaining and one of the most anticipated competitions in Atlantic Canada. At last year's event we had participation from all four provinces, with Nova Scotia athletes walking away with most of the titles. I am hoping for this year's championships that New Brunswick athletes will avenge last year by putting a beat down on those cocky Bluenosers. Ti-Jean and Heather promise that this year's event will be even bigger and better, with more prizes and giveaways than ever!
The final event of the 2011 season for local competitors will be the 37th Annual New Brunswick Championships on November 12th at the prestigious Fredericton Playhouse. Last year we had a record number 86 competitors and a sellout crowd. I expect nothing less for this year's competition.
With interest in our events at a fever pitch, 2011 will prove interesting, as there are several changes in the rules and regulations for our competitions. These changes will play a significant role in the running of figure categories, with the one-piece suit round now being eliminated. As President, I have mixed feelings regarding this new rule, as I feel the one-piece round added a great deal to the category and allowed competitors to showcase themselves quite differently than with just the two-piece. Considering that this is a CBBF National ruling, I felt it unfair to keep the round in our local competitions. The cost of buying a one-piece suit that will not be required nationally is an unnecessary expense, so has also been eliminated locally. On the positive side, competitors can now focus on their two-piece suit, and we expect the elimination of the one-piece round will save time in the prejudging and evening finals.
On the downside, figure competitors will now have only one opportunity to showcase their hard work and sacrifice, that being during the two-piece round. For those who require a bigger challenge, I have added the new Figure Physique category. This division will be part of the Atlantic Championships as a test run, and I am hoping it will be a success. Basically, it is a competition for those Figure competitors who want to challenge themselves to a higher level of competition beyond just performing the four standard Figure poses. With Figure Physique, a competitor will be required to perform several mandatory poses along with a 30-60 second posing routine to their choice of music. It is not a bodybuilding competition, as we are not looking for excessive muscle size or extreme muscularity. The criteria are very similar to the current Figure standards, where shape, balance, symmetry and moderate muscularity are required. However, we are not looking for that ripped or striated condition with veins popping out. Also, presentation of the physique will play a big role as the athlete now has the opportunity to showcase their condition with graceful and artistic posing in high heels. Any Figure competitor who wishes to cross over and compete in both classes is welcome, and encouraged to do so.
In closing, I am often asked what are the advantages of competing for and supporting the New Brunswick Physique & Figure Association? With numerous other federations promoting competitions across the country, there is much confusion among athletes as to the best place to compete. My goal as President of the NBPFA is to brand our association, and the CBBF by extension, as the only one in New Brunswick and the Atlantic region worth supporting.
BENEFITS OF SUPPORTING THE NBPFA
Affiliated with the CBBF who are part of the IFBB. The CBBF is the

only

officially government-recognized Federation in Canada.
Only by competing in the NBPFA can you qualify to compete at the CBBF Nationals, with the potential of earning a Pro card that is recognized by the IFBB.
Well-organized and professionally promoted Provincial and Atlantic competitions using skilled and experienced promoters.
Competent, qualified and unbiased judges who represent all regions of NB and Atlantic Canada.
Financial aid for all NB & PEI athletes who are officially qualified to compete at CBBF National events.
Publicity for Atlantic Canada's top athletes and contest coverage in Inside Fitness and MuscleMag.
Professional website with latest news, contest coverage, videos, and high quality images of NB and Atlantic Championships.
Cash bursaries, prizes and gift bags at Provincial and Atlantic Championships.
Informative and professionally run Figure workshops with latest up to date information.
Great social network using Facebook as a tool to communicate with those who are a part of our bodybuilding and fitness community.
Top quality professional photos and videos of all our athletes and competitions.
A rich history and family-like comradeship that goes back over 35 years.
I may be biased, but I truly do not feel any other Federation can match what the NBPFA offers.
I thank you for taking time out to read this, and I look forward to your comments on Facebook.
Garry Bartlett, President
NBPFA